Superstar wrote:
WongLee wrote:
The Los Angeles Rams released the first publicity picture of their male cheerleaders today. I think they're on to something.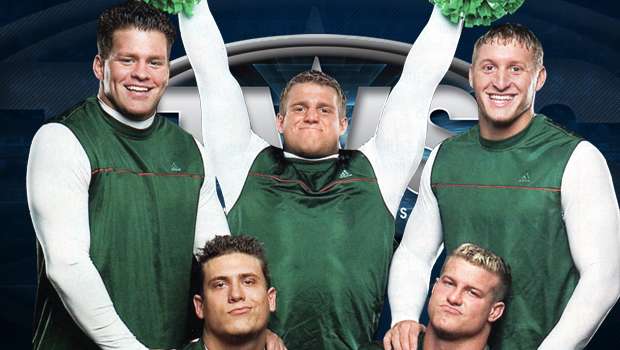 Still can't believe that Nicky is the Semen Squad member that made it big, because Kenny was better than any of the young wrestlers they brought up in the couple of classes after Batista/Cena/Lesnar/Orton.

Kenny was their #1 prospect and I remember everyone immediately recoiled when they saw he was put in the Squad. It still wasn't the kiss of death though because every step of the way he was expected to get repackaged and be the break-out star. I can't remember how many rumors I heard about this being the week that Kenny rejects the Squad and turns face and becomes a serious wrestler. Then after his release he was supposed to do huge things in the indies. None of that ever happened and from what I understand he never wanted to wrestle a full-time indy schedule and for a few years there rarely tried to get booked period. He lost all his passion for wrestling. In the past few years, he's made more frequent appearances but usually remains in his Squad gimmick wrestling comedy matches.

Mikey Mondo, who I saw come up when he was very young as Livewire on the NY indy scene, actually hustled and got himself a decent indy run, including an impressive stint in ROH that ended with injury. But now Mondo is back to doing the Squad gimmick with Kenny and wrestling sporadically too. At least he had a little time doing his thing, Kenny never had it.

Last edited on Thu Aug 9th, 2018 01:55 pm by srossi



____________________
This thread was great before AA ruined it.