Kid_Naitch
| | |
| --- | --- |
| Joined: | Tue Oct 30th, 2007 |
| Location: | IOWA |
| Posts: | 4903 |
| Status: | Offline |
Too tired to come up with much beyond a quick report from last night. Drove straight up and straight back afterward (about 11 hrs total). The show went 2 hours, 55 minutes. My friends and I got there early and were part of the drawing to get in the "pit" area, and we got in. About 20 or 25 feet from stage, or about 12-15 feet from catwalk area. Pretty damn close.

The set list (below) was outstanding, and had plenty of old nuggets though not much newer stuff. My personal highlights were Seeds which I developed a new appreciation for, The Ghost of Tom Joad, which had a top five guitar solo that I ever seen by Nils Lofgren, and The E Street Shuffle, which was a surprise oldie.

Max's son drummed on about the first 10 tracks, and did a great job. Definitely a wildman with arms and hair flying. Big difference from Max, who wastes no motion. Both are power drummers, though.

The biggest thing I noticed after the show was that Bruce's voice was pristine. Perfect range and clarity tonight. He seems to be singing better and better with each tour. I listened to some Live in NYC stuff (from the late 90s) on the way home and he sounds better now than then. His show was also extremely physical. The guy is freak.

Clarence looked rough. He could still play sax great, though is really hobbled by the replaced knees and hips. He'll probably tour 'till he drops though. All of them will.

Just a dynamite show. I didn't think I could ever have a better concert experience than the Magic tour show, and I did. It's like a big tent revival.

From http://www.backstreets.com:

Setlist:
Badlands (w/ Jay Weinberg)
Radio Nowhere (w/ Jay Weinberg)
Outlaw Pete (w/ Jay Weinberg)
No Surrender (w/ Jay Weinberg)
Out in the Street (w/ Jay Weinberg)
Working on a Dream (w/ Jay Weinberg)
Seeds (w/ Jay Weinberg)
Johnny 99 (w/ Jay Weinberg)
The Ghost of Tom Joad (w/ Jay Weinberg)
Raise Your Hand (w/ Jay Weinberg)
Good Lovin'
Prove It All Night
The E Street Shuffle
Waitin' on a Sunny Day
The Promised Land
I'm on Fire
Kingdom of Days
Lonesome Day
The Rising
Born to Run


Encore:

Hard Times
Tenth Avenue Freeze-out
Land of Hope and Dreams
American Land
Bobby Jean
Rosalita

Italicized tracks were requested by the crowd via sign.

Oh! a funny story. There was an wasted, unruly guy in a wheelchair in the pit swinging a cane and being a real asshole to the people around him. Real bastard. The security didn't want to eject him (it would've been difficult and they probably just didn't want to be seen giving a cripple the heave-ho), so they just loomed over him for the last third of the set. Other than that guy, Boss crowds tend to have intelligent, respectful people. LOTS of young people, which was great to see.

From last night, also via http://www.backstreets.com. Jay's behind Boss, who's using a copy of a famous telecaster, which is currently on display at the RnR HOF. This is basically what my view would've been like, though about 10 feet to the right of Bruce (his left).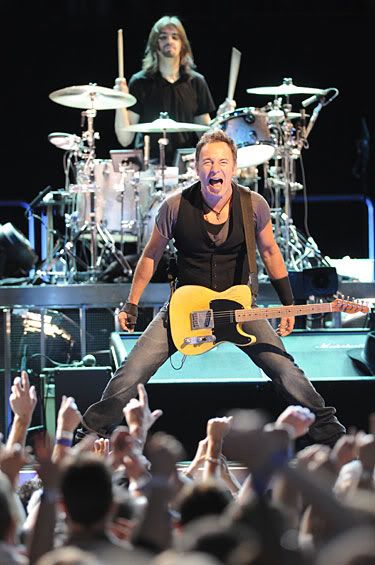 So much for a quick report.





____________________