I checked out Level Up this morning. I was interested to see the debut match of "Hank Walker". Not that he is supposed to be anything special, but he's one of the NIL college sports (football here) failures making his first appearance (after one house show match) on television after three months of training. Interesting choice of ring gear... jeans, an oversized shirt and Timberland boots. Looked every bit the farmboy that they were pushing him as (although poor Nigel McGuiness was scripted to believe that he was Seth Rogen) and you wouldn't guess that he was a professional wrestler in a million years. At least his opponent, Stacks, was wearing wrestling boots with his slacks and white vest combo.

It wasn't a wrestling match. Just a series of basic wrestling 101 moves one after the other. Nothing was sold except immediately after the move. Not even an attempt to tell a story. Stacks won without cheating, without any help from Tony D'Angelo on the outside. Surely in a basic wrestling match, the heel always cheats to win, because I don't think this was meant to be a squash match, it was supposed to be somewhat even and competitive.

The best (and by best I mean funniest) was when Walker ripped of his shirt, to the delight of the crowd, to reveal his pasty white wobbly belly, which probably points to one of the reasons he washed out his dreams of pro football. I really don't care what a guy's body looks like if he's a good performer, but this just shows that this dude knows nothing about sports entertainment or the company he works for. Rumor has is that Gangrel lost all favor with Vince McMahon when one day his puffy shirt rode up and exposed his out of shape body. I'd be inclined to think that someone did him dirty by letting him go to the ring looking like this. I expect to see him released very soon.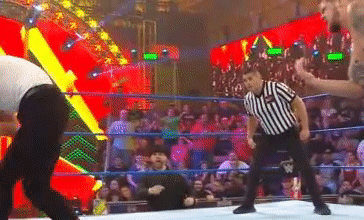 Last edited on Sat Jul 2nd, 2022 07:16 am by Kriss



____________________
"Never argue with an idiot. They will drag you down to their level and beat you with experience." ― Mark Twain